Welcome my BeYOUtiful Naturalistas...Before booking your hair appt, please read this entire section, so we can be on the same page.

HAIR ME OUTŪ Celebrity hair artist Nedjetti, owner of Hair by Nedjetti Salon in Bloomfield, NJ specializes in natural hairstyling and hair care including locs has styled Uzo Aduba, Cedella Marley, Ilyasah Shabazz, Jada Pinkett-Smith, Melba Moore, Darlene Love, Clarke Peters, Danielle Brooks, Mos Def, Eva Marcille, Dr. Henry Louis Gates Jr. and Adepero Oduye among others.

Yes, Nedjetti is skilled with working on all hair types during her jobs within the entertainment, beauty and fashion industry, but as a renown natural hair care specialist of 25+ years, Nedjetti believes in celebrating the essence in women and children wearing their hair in its BeYOUtiful Godly organic state.

At Hair by Nedjetti Salon, Nedjetti creates unique natural protective hairstyles and services such as pompadours, big chop, double-strand twists, comb coils, cornrows, afro twist out, double strand flat twists, loctician (grooming, styling and loc repair), braids, trims, coloring, steam treatments. Nedjetti is a Soft Sheen-Carson platform Educator for Dark and Lovely Au Naturale Anti Shrinkage line specifically made for gorgeous and versatile coily and curly tresses.

CLIENT QUOTE: 7.19.13 I received this heartfelt quote from my new client Donna:
"I'm home and glowing from the awesome 'hairapy' experience I received today! Courtesy of the Queen Diva of natural hair care and life coach, NEDJETTI HARVEY!!! I am so so honored to have met you and greatful to GOD for placing you, a positive, enlightening, passionate and loving person as yourself, into my life. I pray God?s love, peace and happiness be forever upon you and Bre!"
Listen to Nedjetti's August 23rd 2015 Blog Talk interview with Celebrity Make-up Artists Janice and Denise Tunnell. Nedjetti speaks about her 16 plus years and more!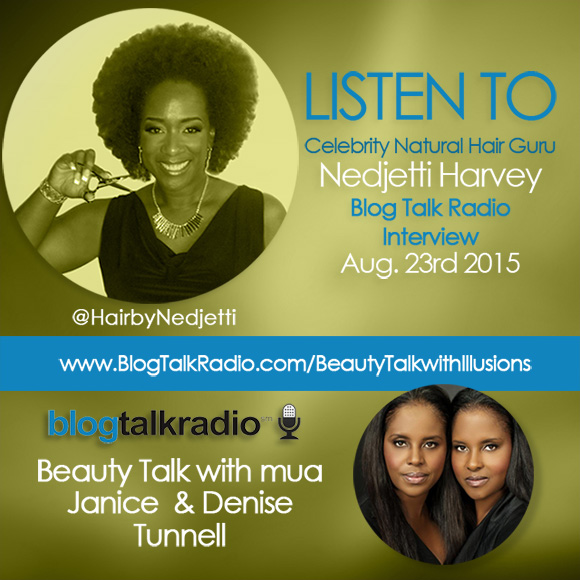 Watch Nedjetti create 6 (six) easy to do protective natural styles from a chic pompadour, double-strand twist out, transitional relaxer to natural, aluminum foils twist out, finger coils to a bouncy braid out.
Ready for your Big Chop? Get Inspired!
~~~~~~~~~~~~~~~~~~~
All hairstyles in my 'hair gallery' on Nedjetti.com were created by Hair Artist Nedjetti.

**For convenience, please book your hair appt online at

STYLESEAT.COM/NEDJETTIHARVEY

After you've booked your appt., a NON REFUNDABLE $50 hair appt 'retainer' will be emailed to you via Paypal (you don't need to have a Paypal acct) and the $50 retainer amount will be deducted from your quote upon receiving your hair service with me.

I will call you with a phone consultation after you book you appt with me online

It's required to bring only yourself to your hair appt. sessions and I look forward to giving your some AU NATURALE TLC HAIRAPY.

~~~~~~~~~~~~~~~~~~~

HAIR BY NEDJETTI SALON in BLOOMFIELD NEW JERSEY

Location Bloomfield, NJ in a professional salon and the address is given after your $50 deposit is made.

Phone 973.748.0181 (please, expect to leave a message with your cell)

Days and hours of operation :

Everyday of the week by appt. only
11:00 am - 8pm

Payment Accepted: Cash & All Major Credit & Debit cards (Visa, MasterCard, Discovery & American Express)

Amenities: Internet WiFi, No Meter Parking, One-on-one service with Nedjetti including herbal tea, fruit (seasonal), soothing music, candles, ottman, incense and an one-on-one hairapy experience!

Gender Accepted
women & children over 10 yrs old (no men)


Consultations are given by phone after you book your appt online (please expect to text a pic of your hair to my 24 hr cell)

Lateness (You MUST be on time, if running late, please call or text). I've never stood a client up and I'm always on time :}

Products used:

Dark and Lovely Au Naturale and Soft Sheen-Carson Professional Hydra Steam lines

~~~~~~~~~~~~~~~~~~~

NATURAL HAIR CARE SERVICES

Prices are based on length and density of hair (includes shampoo and conditioner)

BC (w/o style (Big Chop) $95+ (from relaxer to natural texture/length)
BC (w/ style (Big Chop) $150+

Blow Outs (only, no flat ironing $90+ Coloring $90+ (add'l) $5 per color bottle (developer included)


Cuts (tapered, no protective style) $90+
Cuts (tapered with protective style) $250+

Braids (no extensions) $85+ (style lasts up to a month)
Comb Coils $95+ (style lasts up to a month)
Cornrows (no extensions) $95+ (style lasts up to a month)
Double strand twists (no extensions) $90+ (style lasts up to a month)
Combo Styles (2 hair techniques combined i.e doublestrands twists and cornrows) $185+

Starter Locs $90+ (lasts up to a month)
Loc grooming (I use a comb & clips to each loc, no palm rolling) > $90+ (style lasts up to a month)
Loc styling with grooming add'l $40+
Loc repair $20 per loc (client pays add'l for human kinky hair)

Steam Treatment (w/o hairstyle) 75+
Steam Treatment (with hairstyle) 185+ Trims (only, no style) $90+
Trims (with hairstyle) $185+ *Note* Prices and policy are subject to change at any given time and I do not give relaxer services nor style transitional hair (natural and relaxer textures).

~~~~~~~~~~~~~~~~~~~~~~~~~~~~~~~

Below videos: Mar 25 2010, I spoke to a few BeYOUtiful 10yr old Princesses during Career Day in Maplewood, NJ for Little Sistahs in the Know, Inc about the importance of celebrating, embracing and loving their versatile natural coily and curly tresses. Children are so receptive and a joy to be around!

~~~~~~~~~~~~~~~~~~~

Nedjetti's HAIR ME OUT ® Apparel and Accessories Online Store
HAIR ME OUTŪ is a celebratory expression of self-luv giving thanks to God for bestowing us with receptive, unique and versatile natural coils and curls.
We have shirts and tees for women, men, children and maternity, caps, totes, bags, mugs, hoodies, sweatshirts, calendars, bibs, onesies and more !!!
Nedjetti's HAIR ME OUTŪ calendar features 12 of Nedjetti's inspirational natural hairstyles all extension-free a healthier approach to styling and maintaining your gorge natural tresses.
Nedjetti thanks you for your support, do tell friends and HAIR ME OUTŪ enjoy your Apparel and Accessories!
~~~~~~~~~~~~~~~~~~~
Education Credentials:
∞ NJ & NYS Licensed Cosmetologist
∞ L'Oreal Soft Sheen-Carson platform Educator
∞ Natural Haircare Specialist & Loctician of 25+ years, keynote speaker, mentor and competition judge
∞ Received a 'Recognition of Outstanding Achievement' Certificate for maintaining a 3.8 avg. in cosmetology school
∞ Received a 2005 Certificate of Excellence for being one of the 100 Most Influential Women in the Beauty Industry from SalonSense.com
I look forward to our 'hairapy' session, peace nluv...
Nedjetti Harvey