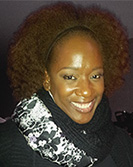 bio
N edjetti Harvey, celebrity hair artist and men's groomer, has been making music with her fingers for 14+ years. As a 3rd generation hair artist, Nedjetti has been passionately styling hair since age seven.
The owner of Hair by Nedjetti LLC, Nedjetti's company has produced Nedjetti's Natural Hair DVD Vol 1, Hair Me Out ® apparel and accessories and Hair by Nedjetti Salon in Bloomfield, New Jersey.
Nedjetti is also a competition judge, mentor and as a L'Oreal Soft Sheen-Carson platform Educator, is proud to be their natural hair care expert in 7 of their Dark and Lovely's Au Naturale "how-to" videos.
Nedjetti has styled Jada Pinkett-Smith, Ilyasah Shabazz, Cedella Marley, Melba Moore, Francisco Lachowski, Marsha Ambrosius, Genevieve Gorder, James McDaniel, Alessandra Ambrosio, Eva Marcille, Bree Williamson, Beth Ann Bonner, Mos Def, Clarke Peters, Danielle Brooks, Nate Parker, Uzo Aduba and Adepero Oduye among others.
Nedjetti is honored to be a 2013 Black Celebration Awards finalist for her dedication and contribution as a beauty professional within the African American community.
Nedjetti's hair art and hair care advice has been featured in over 50 hair, bridal and fashion magazines including TIME, O MAGAZINE, ESSENCE, PAPER, ZEBRA, WOOFIN GIRL, UPSCALE, BRIDES NOIR, SOPHISTICATES BLACK HAIR, DEMETRIOS, COLURES, PRESTIGE INTERNATIONAL and BLACK BEAUTY and HAIR including twice in THE NEW YORK TIMES.
Although Nedjetti enjoys styling all hair types during her jobs within the industry, she is noted as one of the industry's leading natural hair care gurus who promote women embracing and celebrating their beautiful organic tresses!
Nedjetti's was Dept Head Hair on "Red Hook Summer" directed by Spike Lee's for and Key Hair on "Sharknado 2 airing on SyFy July 30, 2014" directed by Anthony C. Ferrante. During a performance at Jazz Lincoln Center for Don Giovanni with conductor Ivan Fischer, Nedjetti key hair opera vocalists Laura Aikin, Myrto Papatanasiu and Sunhae Im. The cast was featured on the cover on The New York Times in the Arts Weekend section.
Nedjetti believes in paying it forward and has volunteered her hair services and expertise to organizations such as Little Sistahs In The Know, Inc, The Flow Affair, Imperial Court of NY 'The Night of a Thousand Gowns' and The United Negro College Fund 1st Fashion show 'The Evening in Fashion'.
Nedjetti is a proud contributor in 100 Words of Wisdom for Women: a 31 day journal consisting of inspiring reflections from 40 of the most powerful and eloquent women of our time. Author A'Lelia Bundles (Madam CJ Walker great, great granddaughter) and iconoclastic commentator Dr. Julianne Malveaux were also part of this moving journal. All proceeds went to the national Lend Me Your Hand Domestic Violence Campaign.
Nedjetti relishes styling hair for film, tv, runway, print, celebrities, theatre, commercials and red carpet. With every opportunity, she exercises her 4 innate P's throughout her walk in life; professionalism, promptness, precision and personality. She will bring a ray of light, innovative ideas and passion onto any creative job.
Nedjetti believes, "Create your belief system, develop your point of view and help others throughout your walk. God will do the rest!"