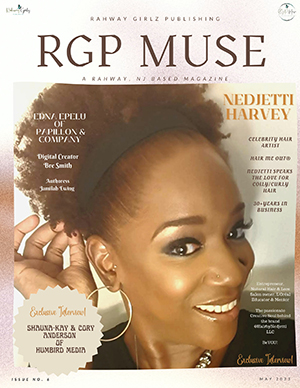 Bio
Hair Me Out® Nedjetti Harvey, Celebrity Session Hair Cosmetologist has been professionally making music with her creative fingers for 30+ years. As a 3rd generation Hair Artist, Nedjetti has been passionately styling hair since age seven.
Founder of Hair by Nedjetti LLC, Nedjetti is the Hair Artist, Producer, Artistic and Creative Director of her successful Nedjetti's Natural Hair DVD Vol 1, the vision behind her Hair Me Out® Nedjetti's online apparel and accessories store and is the owner of Hair by Nedjetti Natural & Locs Salon in Bloomfield, New Jersey, celebrating over 30 years in business.
Nedjetti's a hair competition judge, pay it forward mentor to aspiring Csometologists and she enjoys volunteering her time at Natural Hair college and community cultural events.
As a national L'Orèal platform Educator of over 10 years, Nedjetti is their lead Natural Hair Care expert for 6 of their Dark and Lovely's Au Naturale DIY "how-to" video, has written an approved Natural Hair curriculm for her CEA (Cosmetology Educators of America) platform presentation and L'Orèal USA made changes to their Au Naturale product line based on Nedjetti's product testing feedback.
Some of Nedjetti's celebrity clientele are Dr. Ilyasah Shabazz, Danielle Brooks, Jada Pinkett-Smith, Uzo Aduba, Cedella, Skip and Saiyan Marley, Melba Moore, Clarke Peters, Marsha Ambrosius, Jade Eshete, Genevieve Gorder, Eva Marcille, Bree Williamson, Beth Ann Bonner, Yasiin Bey aka Mos Def, Adepero Oduye, Michael Kenneth Williams and Dr. Henry Louis Clark Jr. among others.
Nedjetti was honored to represent her passionate hair artistry devotion as a 2021 NAHA judge, "The most prestigious professional beauty competition in North America."
Nedjetti's hair art and hair care advice has been featured in over 50 hair, bridal and fashion magazines including TIME, O MAGAZINE, ESSENCE, ALLURE, PAPER, THE UNTITLED MAGAZINE, UPSCALE, BRIDES NOIR, SOPHISTICATES BLACK HAIR, DEMETRIOS, COLURES, PRESTIGE INTERNATIONAL, BLACK BEAUTY and HAIR UK including twice in THE NEW YORK TIMES.
Along with her talented peers, being a part of some memorable Film and Television shows has been rewarding and memorable experiences for Nedjetti which includes styling hair on The Affair Season 2, The Good Wife Season 7 and Law & Order SVU Season 16 to name a few.
Nedjetti was Dept Head Hair on films Red Hook Summer directed by Spike Lee and Key Hair on Sharknado 2 directed by Anthony C. Ferrante.
In 2011, for a breathtaking performance at The Jazz Lincoln Center for Don Giovanni with conductor Ivan Fischer, Nedjetti key hair to opera vocalists Laura Aikin, Myrto Papatanasiu and Sunhae Im. The cast was featured on the front page of The New York Times in The Arts Weekend section.
Yes, Nedjetti loves styling all hair types within the fashion, beauty, film, television and entertainment industry and with gratitude is noted as one of the Beauty Industry's leading and respected Natural Hair Care Gurus and influencers. With over 20 years and counting, Nedjetti's goal is to globally share, educate and inspire the masses, especially women and children of the African Diaspora on the importance of embracing and celebrating our BeYOUtiful God given Coily and Curly Natural Hair!
Nedjetti's maternal grandmother Ruth Harris was a Cosmetologist (her muse as a child) and paternal grandfather King Harvey, Sr. a barber.
Proudly, Nedjetti has made HERstory, leaving her familiy Hair Artistry legacy forever rooted with love and passion at the Smithsonian National Museum of African Amnerican History & Culture in Washington, DC. Nedjetti's photographed as a hair model and her renown diamond part Bantu Knots grace an issue in ESSENCE 2011 Hot Hair magazine, both displayed in the same exhibit for the world to witness.
Hair Me Out®, with every opportunity, visionary creative soul Hair Artist Nedjetti Harvey exercises her 5 life's principles throughout her Divine journey; Passion, Professionalism, Promptness, Precision and Personality.
Hair Me Out®, Nedjetti will bring a ray of light, innovative ideas and passion onto any creative project.
Entrepreneur Nedjetti Harvey believes, "Passion + Practice ="s God's Purposeful Inner Joy, BeYOU."

@HairbyNedjetti