---
Upcoming Press..
Jewel Magazine
June/July '06
Jolie Magazine
June/July '06
Upscale Magazine
June/July '06
Lucire Magazine
May '06
Zebra Magazine
May '06
---
---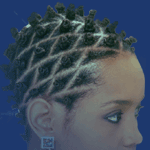 Hairstyles List and Hair Length Requirements:
~ African coil twists (comb-twists, one inch or more)
~ Double-strand twists ( two inches or more intertwined)
~ Cornrows (three inches or more, style of your choice)
~ Cultivated Earthlocs (one inch or more)
~ Bantu Knots (four inches of hair or more twisted into a
&nbsp&nbsp knot) (diamond, triangle, and box shapes)
~ Flat twists (four inches or more, twisted to the scalp with
&nbsp&nbsp a cornrow affect)
~ Coiled tracks (half to one & half inches comb coil twisted in
&nbsp&nbsp a continuous flow to the scalp)
~ Flat twists/Bantu Knots (a unique combination of both
&nbsp&nbsp styles) and much, much more....
Earthlocs
Note: Prices for starter earthlocs and loc maintenance including styling are based on the length of your hair:

∞ Starter Locs: (1 inch of hair or more)
∞ Styling Locs: (styled on mature locs, 2 years or more)
&nbsp&nbsp
Styles offered for Earthlocs:
∞ Elegant Curls
∞ Be-you-tiful Crinkles
∞ Glamorus upsweep styles for all events and occasions
&nbsp&nbsp&nbsp with a touch of my original, bold and unique creativity.
---
Dread means to be in terror of, profound fear,to anticipate with alarm, distaste,or reluctance
"There's nothing Dreadful about EARTHLOCS….
Follow Nedjetti
---
Featured in...
---